Building Bridges and Breaking Barriers: Spring Valley Seniors Community Partners with RINK Hockey Academy
June 13, 2023 | By Park Place Seniors Living |
In today's fast-paced world, it is heartwarming to witness the power of community engagement and the positive impact it can have on individuals of different generations. Such is the case with the Spring Valley Seniors Community in Kelowna, where the long term care residents have found joy and inspiration through a unique partnership with the RINK Hockey Academy. RINK Hockey Academy is a Hockey Canada Accredited School that runs the entire school year, not just the hockey season. Student-athletes get the opportunity to grow on and off the ice. The program offers an integrated approach to individual development and physical care beyond team play, in an exceptional environment that breeds success. The girls have won the Female U18 Prep CSSHL Championship (Canadian Sport School Hockey League) this past season and four times in the last six years. By bringing student athletes and seniors together, barriers are broken, friendships are formed, and a shared love for the game of hockey emerges.
Embracing Inter-Generational Connections
Spring Valley Seniors Community has long recognized the importance of fostering meaningful connections with the broader community. They firmly believe that inter-generational interactions can be a source of immense joy and enrichment for both the seniors and the younger members of the community. Recognizing this, they sought to establish a partnership that would bridge the gap between generations while nurturing a shared passion.
Enter the RINK Hockey Academy, a group of talented young, female athletes who excel both on and off the ice. These inspiring individuals were eager to engage with residents and provide them with an opportunity to experience the thrill of hockey firsthand.
One of the most memorable activities organized between the Spring Valley Seniors Community and the RINK Hockey Academy was the "shinny" sessions. Shinny, a casual form of hockey, requires little equipment and is played outdoors on a non-traditional rink. The residents, many of whom had never played hockey before, embraced the opportunity to learn from these talented athletes. With sticks in hand and laughter filling the air, the inter-generational shinny games quickly became a highlight for everyone involved. The young players showcased their skills while also providing support and encouragement to the seniors, fostering a sense of empowerment and belonging.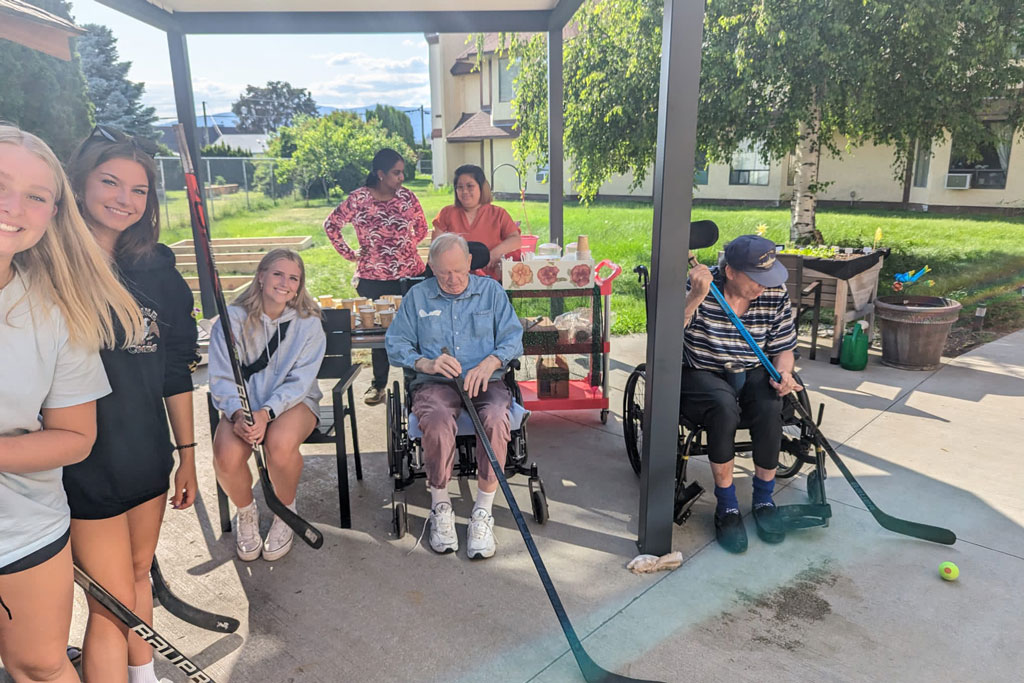 Beyond the Game
What makes this partnership truly special are the connections that formed. The young hockey players not only engaged in spirited games with the seniors but also spent time listening to their stories, learning from their wisdom, and forming lasting friendships. They discovered common ground beyond the game of hockey, discussing life experiences, sharing aspirations, and providing each other with a unique perspective on the world.
Gallery